Khi loạt SureColor Fabric được ra mắt lần đầu tiên, nó đã thể hiện một cuộc cách mạng trong ngành in. Thiết bị được thiết kế từ đầu để cung cấp giải pháp một nhà cung cấp hoàn chỉnh với hoạt động đơn giản hơn, độ bền cao hơn và hình ảnh vượt trội. F2130 là máy in Direct To May (DTG) thế hệ mới nhất của Epson. Nó có tính năng linh hoạt sản xuất nâng cao, năng suất cao hơn, giảm bảo trì và chi phí vận hành thấp hơn. Tối ưu hóa để tùy chỉnh và tăng giá trị cho các sản phẩm may mặc bằng cotton như áo phông, áo polo, quần jean và mồ hôi, nó sẽ hình ảnh trên một loạt các trang phục thể thao và giải trí polyester, và cũng có thể được sử dụng cho các mặt hàng quảng cáo và trang trí bao gồm túi tote , khăn trà và đệm. Các bản in có thể được thực hiện trên vải cắt sẵn hoặc trực tiếp đến quần áo thành phẩm bằng máy ép nhiệt được sử dụng để 'sửa chữa' thuốc nhuộm. Máy in có thể được đặt hàng trong cấu hình 4 màu để sản xuất âm lượng tốc độ cao cũng như cấu hình 5 màu cho công việc trắng CYMK + linh hoạt. Phần cứng được bảo hành toàn diện tại chỗ với vỏ bảo hành có thể kéo dài đến ba năm.
When the SureColor Fabric series was first launched it represented a revolution in textile printing. The equipment was designed from the ground up to provide a complete single-vendor solution with simpler operation, higher durability, and superior imaging. The F2130 is Epson's latest generation Direct To Garment (DTG) printer. It features enhanced production flexibility, higher productivity, reduced maintenance, and a lower running cost. Optimised for customisation and value-adding on cotton based garments such as T-shirts, Polo tops, jeans and sweats, it will image onto a range of polyester sports and leisure wear, and can also be used for promotional and décor items including tote bags, tea towels and cushions. Prints can be made on pre-cut fabric or directly to finished garments with a heat press used to 'fix' the dye. The printer can be ordered in a 4 colour configuration for high speed volume production as well as a 5 colour configuration for flexible CYMK + white work. Hardware is covered by a comprehensive on-site warranty with service cover extendable up to three years.

The SC-F2130 uses advanced Epson UltraChrome® DG ink and our latest heat-free PrecisionCore™ print head technology. The print head supports resolutions of up to 1440 x 1440 dpi for exceptional precision and consistency. Enhanced imaging and positional adjustment has enabled improved print quality. Ink consumption has been reduced and density is adjustable to enable variable levels of quality and finish.
FEATURES AT A GLANCE
Enhanced Productivity – faster frameless loading and an improved print speed. Produce a light coloured T-shirt in as little as 15 seconds and a dark shirt in as little as 52s1.
Enhanced Print Quality – finer height adjustment for improved ink application and upgraded VSDT (Variable Size Dot Technology) for superior imaging with reduced grain, an enhanced colour gamut and smoother gradation.
Enhanced Functionality – supplied complete with imaging software. New features enable more flexible editing and arrangement, addition of customised text, and presentation/ finish adjustment.
Enhanced Reliability – upgraded head design and improved ink management system. Backed with a comprehensive 'Heads-N-All' on-site warranty with cover extendable up to THREE YEARS.2
Reduced Operational Cost – reduced ink consumption and new Self-Washing Capping System with dedicated cleaning cartridge for simpler operation and reduced maintenance.
Outstanding Flexibility – supports a wide range of fabrics containing a mix of natural and man-made fibers in thicknesses up to 25mm. Platen options support a variety of production applications and garment sizes/types. Ships in a choice of two configurations; High Speed 4C for high volume production on light coloured fabric and 5C for flexible production on a mix of light and dark coloured fabric.3
Easy to Install & Operate – simple set-up with a small footprint and all-front-loaded consumables. Features auto height sensing / checking and a large colour LCD control panel with in-built help and improved thumbnail viewer.

Quality Results
Epson UltraChrome DG Ink is optimised for fabric with a moderate to loose weave and 50% or more cotton content. When used in conjunction with the appropriate Epson pre-treat it will adhere to garments containing a range of single and multiple fibre contents including polyester. It produces images with a low tack finish and good UV/wash durability. The ink and Pre-Treatment liquids feature low toxicity, when applied to fabric and appropriately fixed they conform to the latest Oeko-Tex Eco Passport® standard with garments safe for use by adults, children and babies.3 & 4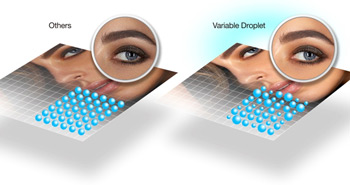 Epson UltraChrome DG Ink was developed to support fabric with a 50% or greater cotton content. It adheres well and fixes easily for images with a low tack finish that have good UV/wash durability. Both the ink and Pre-Treatment liquid when applied to cotton fabrics conform to the latest Oeko-Tex Eco Passport® standard with garments safe for use by adults, children and babies.4

Easy to Install and Operate
Direct To Garment printing replaces the complex, messy and time consuming process of traditional screen printing with a fast, flexible, and repeatable digital solution. Artwork can be created using a range of readily available drawing and photo editing programs before being printed directly to one, two or a hundred pieces of clothing. The SureColor F2130 can be ordered in two configurations; 4C Colour Only, or 5C Colour with White. The 4C configuration is extremely simple to use and fast to operate. It is designed for output on light coloured fabric and suits high speed commercial production as well as ad-hoc in store customisation. The 5C configuration offers increased production flexibility with additional white ink that can be applied as a separate colour, or as a base for CYMK prints on darker fabric.3

The Epson F2130 features a removable platen with new user-replaceable grip pads that facilitates faster and easier frameless loading5. Height adjustment has been enhanced with finer adjustment for superior print quality. An integrated optical (LED) height sensor helps protect the mechanism against incorrect loading while the head has been upgraded with an integrated fluff collector for improved reliability and reduced spoilage. The head is self-cleaning and operates with a new self-washing capping system for reduced maintenance and wastage. The printer features a large front panel colour LCD complete with integrated help and a QR-Code that links to videos that provide further assistance. The printer ships with upgraded Epson Garment Creator software that includes features to enable the combination of multiple images, the insertion of customised text, and adjustment of the image finish (faded, standard, and vivid).

Flexible and Economic to Run
The SC-F2130 in 4C configuration will print a full sized T-shirt in 9-15s while the 5C configuration will complete a multi-pass print in 52-87s. It ships complete with a standard sized platen to enable a single operator to produce standard adult t-shirt sizes as well as common merchandise items. Additional platens can be ordered separately to suit work environments with multiple operators and separate preparation, pre-treatment and/or fixing stations. Optional platens are also available to suit oversized garments, garments with zippers & buttons, child sizes, sleeve and pocket panels.

The F2130 was designed to ensure enhanced reliability with a reduced running cost. It consumes the minimum amount of ink to complete each print job while achieving optimum detail, colour, and brightness. The printer incorporates an upgraded re-circulation system that manages the sedimentation inherent with white ink (5C configuration) while ensuring minimum workflow disruption. The printer is shipped with a comprehensive 1 Year Warranty backed with free on-site repair and cover that can be extended up to 3 Years.2
SIZE



Max Print Area

406x508mm (using optional Large Platen)

Form Factor

Desktop

PRINT TECHNOLOGY

Print Head

PrecisionCoreTM TFP

Print Modes

Uni & Bi-directional

Configuration

360 nozzles x 10 lines

Max Resolution

1440 x 1440dpi

Minimum Ink Droplet Size

12pl

Features

Fluff Collector
Automatic Head Wiping
Self-washing Capping System
Variable Sized Droplet Technology

INK SYSTEM



Ink Family

Epson Ultrachrome® DG

Ink Technology

Direct To Garment

Ink Formulation

All-Pigment

Loading

Cartridge Based

Capacity

6 x 250 or 600ml CYMKW
1 x 700ml Cleaning

Configuration Options

4 Colour: CCYMMK + Cl
5 Colour: CYMKWW + Cl

Features

Mist Extraction
Multi-stage filter
Automatic ink recirculation

PERFORMANCE

4 Colour Configuration

High Speed: 9s
Production: 15 seconds
High Quality: 27 seconds

5 Colour Configuration

Fast Production: 15s (Colour Only), 27s (White Only), 52s (White + Colour)
Production: 27s (Colour Only), 49s (White Only), 87s (White + Colour)
Quality: 50s (Colour Only), 111s (White Only), 171s (White + Colour)

Figures are based on print speed only and refer to an image sized 254x203mm printed in landscape orientation in nominated print modes using Epson Garment Creator. The printer supports a range of print modes to suit different workflow, application, and quality requirements (a limited selection of these are documented above); customers are recommended to check with their dealer on which mode is appropriate to their individual need and the consequential speed that can be achieved. It should be noted that actual print times will vary depending on a range of variables including the printer configuration, image size & type, print mode, software selection, PC specification, and networking configuration. It should also be noted that additional time will be required for garment pre-treatment, loading, flattening, unloading & fixing.

MEDIA SUPPORT



Compatibile Material

Designed for garments with a moderate to loose weave containing 50% or more cotton.
Can be used on a range of fabrics containing a mix of natural & man-made fibres including Polyester (contact Epson &/or an Epson Authorised Fabric dealer for further details)

Max Thickness & Weight

25mm, 1.5kg per item

Max Print Area

Large Platen: 406 x 508mm
Standard & Medium Grooved Platen: 356 x 406mm
Small Platen: 254 x 305mm
Extra Small Platen: 178 x 203mm
Sleeve Platen: 102 x 102mm

OPERATION



Features

2.5" Colour LCD
Warning Buzzer
Optical Height Sensor

Interface

Rear High Speed USB 2.0 & Ethernet 100Base-T/1000Base-T
Front panel USB for file storage & uploading (FAT32 format)

Memory

512 MB Main + 128MB Network

Software

Included on CD: Communications Driver, EpsonNet Setup, EpsonNet Config & EpsonNet Print (CD)
Web download: Epson Garment Creator* & Photoshop Plugin, Epson Edge Dashboard (DTG Edition)*, Epson Device Admin & Firmware Updater*
* Windows & Mac Compatible. All other applications are Windows only.
Additional software compatibility

ENVIRONMENTAL



Operational Temp

10° to 35°

Operational Humidity

20 to 80% with no condensation

Power Supply

110 - 240 V, 50 Hz - 60 Hz AC, 0.7-0.4A

Recommended Install Space

1200mm W x 750mm H x 2000mm DA

Power Consumption

55W Operating, 10W Sleep

Operating Noise

44dB

PHYSICAL



Dimensions & Weight

985 W x 490 H x 1,425mm D, 84Kg (Printer with Medium Platen, no ink)

Packaging

1209 W x 852 H x 1,594mm D, 145Kg (Main unit)

WHAT'S IN THE BOX



Printer, Power Cord, Waste Ink Bottle, 1 x Standard Medium Platen, 1 x Standard Platen Grip Pad, 1 x Grip Pad Flattening Tool, 1 x Head Cleaning Kit, 1 x Maintenance Kit, 1 x Ink Initialisation/ Charging Unit, Set-Up Guide, Utility & User manual (CD)




Set of 250ml CMYK ink carts & 3 x Cleaning Carts




20L Cotton Pre-Treatment & 2 x 600ml White ink Carts additionally included with 5C configurations.

The ink supplied with the printer is sufficient to enable set-up, configuration and test printing; Epson recommends purchase of an additional cartridge set to enable full production. It is important to consider production needs and discuss these with your dealer prior to purchase and installation; once the machine has been set-up it is not possible to change the base configuration.

SYSTEM REQUIREMENTS



A Personal Computer will be required for installation and operation of this printing system. When using the USB direct print function files must be processed through Garment Creator first.




Designed to operate with a low-mid range PC or Macintosh with 1GB or more memory & 32GB or more storage, Mac OS 10.1 or higher / Win 7 32/64bit or higher. Web access will be required during installation and a CD-ROM drive is recommended for software/manual loading (also available via download).




A 3rd party Heat Press with adjustable temperature, pressure and timer will be required. Presses can be sourced from a number of suppliers in various sizes and formats.




Use of white ink and output on fabric a high level of polyester, rayon or other man-made fibres requires material to be pre-treated prior to printing. Pre-treatment liquid can be applied manually (roller or spray) however for optimum results a pre-treatment machine is recommended.