Dye sublimation used to be a 'dark art'. When Epson entered the market, we made it possible for customers to produce quality output easily and reliably. Our solutions have proved so popular that we are now a market leader. With the SureColor F10060, we extend the same philosophy into the volume production space. A heavy-duty engine is matched with 76" media support and our latest print head technology. A high-capacity ink system and precision auto-take-up enables roll-to-roll production at up to 255 m2/hr. Fabric manufacture has never been this fast, flexible or efficient.

The SC-F10070 achieves an outstanding gamut using just 4 inks. It combines advanced Epson Precision Dot Technology with UltraChrome DS HDk ink to achieve high image quality with intense and accurate colour. It features automated media setup and uses advanced tracking to achieve maximum results on the widest range of media. A double-sided heating system enables output at the highest speed with the heaviest ink loads, while giving the machine a surprisingly small footprint. It is easy to use, ships complete with software, and has an advanced self-cleaning system to ensure reliable operation with minimal oversight and maintenance.

FEATURES AT A GLANCE
Superior Quality – FOUR latest generation Epson 4.7" PrecisionCore™ TFP Print Heads with Variable Sized Dot Technology enables high-resolution output with consistent and accurate colour. Epson UltraChrome™ DS ink provides an expanded gamut with HD Black for enhanced Dmax.
Excellent Flexibility – advanced platen design, advanced media management and a double-sided drier. Provides support for media up to 1 mm thick in rolls up to 60 kg and 76" (1950 mm) wide. Eco Passport compliance ensures sublimated fabric is suitable for use by all age groups2.
Outstanding Productivity –print 1m2 in as little as 14 seconds. Flexible high-speed networking with 155 GB buffer and integrated step & repeat ensures efficient operation. An 80 L max ink supply with auto hot-swap and high-precision auto take-up enables unattended roll-to-roll operation. Multi-layer halftone reduces grain and banding for saleable output at the highest speeds.
High Reliability – precision airflow management and integrated media cleaning provide an optimum production environment with minimum dust. Inkless-nozzle status sensing with auto-recovery and cleaning enables extended operation without dot loss. A heavy-duty print engine with a Linear Motion Guide carriage ensures high reliability with maximum operational durability.
Reduced Cost – uses cost-effective, box-based ink, and is supplied complete with Epson Edge Print and Accounting software. New Epson Total Solution PORT provides cloud monitoring for enhanced management and service support. CoverPlus provides comprehensive parts and labour coverage for up to 5 years, with optional user self-replacement on key components1.
​
EASY SET-UP & OPERATION
The SureColor F10070 squeezes a lot of performance into a surprisingly compact and flexible package. With its high capacity ink supply and heavy roll media support, it only requires an operational space of 18.5m2. The printer runs off Single Phase 240V power and only needs two 16A sockets. It suits installation in a warehouse or office site, however, an air-conditioned and humidity-controlled environment is recommended for optimal performance. The printer produces minimal odour and less than 60db of noise when operating.

Labour is traditionally a significant cost when it comes to fabric production. The SC-F10060 supports single operator media loading with an integrated lifter, dual front/back platen locks and feed control. Operation is easy care of a large 9" touch panel control with integrated help and online video assistance. It features an industrial-style signal light and a platen window with in-built lighting. When printing it requires very little attention and ships with software that enables remote management.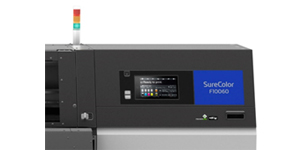 SUPERIOR IMAGE QUALITY
The SC-F10070 features four of Epson's latest PrecisionCore Thin Film MicroPiezo Print heads. Each head incorporates four elements that enable high-speed imaging with outstanding resolution. The heads support Variable Sized Droplet Technology (VSDT) for fine gradation and optimum colour with minimum consumption. The heads are driven by advanced Epson Precision Dot Technology that uses a new multi-layer halftone to reduce grain and banding. Saleable production can be achieved at maximum pass rates.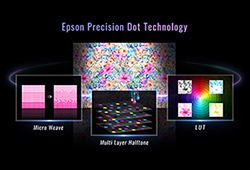 Epson UltraChrome DS ink supports production of a wide range of goods, from material and clothing, to soft signage and banners. It even supports hard signage, photo and custom merchandise imaging. Using a simple CYMK set, it achieves gamut levels equivalent to competitor products with 6 or more colours. It adheres quickly, transfers smoothly, provides excellent UV and wash-fastness. It meets AZO requirements and when applied to polyester fabrics it conforms to the latest Oeko-Tex Eco Passport® standard for safe use by adults, children and babies2. The F10060 uses a formulation with High Density Black that enables enhanced colour density with reduced consumption.
The printer ships with Epson Edge Dashboard software that enables simple and easy management. The application provides access to downloadable EMX files that facilitate rapid setup with common media types. The print carriage also incorporates a high-resolution RGB camera that helps automate setup with custom media.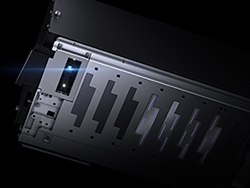 FAST & COST-EFFECTIVE OPERATION
The SureColor F10070 has been designed to produce high-quality output at maximum speed, on a wide range of media. It also features a new platen design that supports operation with the thinnest stock. An integrated, double-sided dryer with adjustable temperature control ensures the optimal mix of conductive and air-blown heat, for high-speed operation with the heaviest ink loads. Active multi-point media tracking enables smooth and reliable operation, with accurate image sizing and minimal cockling.

The printer features high-speed networking and a large buffer memory. Smart image processing with on-board Job Connection, Step & Repeat increases production efficiency while saving repeated file transfer. The high-capacity Continuous Ink Supply System (CISS) uses cost-effective ink that ships in a choice of 3L or 10L boxes that are quick and easy to load. The ink system has dual loading with automatic hot-swap, and as is matched with a high-capacity 4L waste facility. A high-precision auto take-up works actively with the feed system to enable roll-to-roll production with outstanding tension consistency and parallelism. The operator can even instruct the printer to include key production data at the end of each job to assist with subsequent sublimation. When used in conjunction with a quality calendar heat press, it enables efficient production and the manufacture of exceptional quality output.

HIGH DURABILITY WITH LOW MAINTENANCE
The SC-F10070 has been designed to support continuous and reliable operation. Careful airflow management and an integrated media cleaner help exclude dust. Nozzle status monitoring is matched with intelligent print quality management for extended production without interruption or dot loss. Missing nozzles are automatically masked &/or recovered while a high-capacity fabric head wiper engages periodically to ensure consisten performance with minimal maintenance.

This printer is built tough, with a heavy-duty chassis that has integrated locking mechanisms to ensure a solid and stable production platform. Powerful DC motors are matched with a Linear Motion Guide carriage movement, ensuring smooth and reliable operation without the need for regular greasing. Inbuilt sensors will prompt the operator when occasional maintenance is required with on-screen help and on-line video guidance.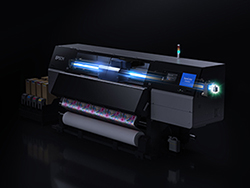 Service is often a significant issue for production equipment, particularly when it comes to fabric. Breakdowns interrupt workflow, while unexpected repair bills are a drain on cash flow. The F10060 can be ordered with a range of service packages that are not only flexible but provide truly comprehensive cover. If you need maximum up-time and have staff with moderate technical ability then user self-replacement can be even enabled on selected components1.
SUPPLIED AS A COMPLETE PACKAGE
The SureColor F10070 ships with Epson Edge Print. This software provides a simple and effective tool for the production of quality output. While traditional RIP applications are hampered by generic drivers and imaging limitations, this software grants access to the full power inherent of Epson printers. It features an uncluttered interface with advanced on-screen visualisation and an Adobe™ Postscript® engine that supports PS, EPS, PDF, TIFF, JPEG and PNG files. It incorporates basic functions such as copy, position, and trim, along with advanced colour correction, nesting and tiling.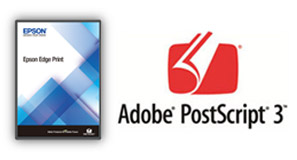 The SC-F10070 ships with an extensive suite of additional software. Epson Accounting Tool is a utility that tracks media and ink consumption. If consumable pricing is entered, the software facilitates expense control and job costing. Epson Total Solution PORT is a new cloud-based service that enables advanced monitoring and operational analysis. It also facilitates enhanced support and accelerated repair1.

1After-sales support is coordinated by Epson in conjunction with our Authorised Reseller and Service Networks. Support may be restricted or limited if equipment is used outside of specification, with incorrect and/or non-genuine consumables. Provision of CoverPlus requires activation of Epson Total Solution, agreement to the terms of supply and connection to the Internet. User self-replacement requires staff to be appropriately skilled and trained. For further details please refer to the specs tab.
2ECO PASSPORT by OEKO‐TEX® is an international standard for the textile industry system. It enables suppliers to demonstrate that products can be used in sustainable textile production. For further information please see the OEKO-TEX web site.