When the Epson SureColor Fabric DS series was first released it represented a revolution; designed from the ground up for dye sublimation, it provided one of the first turn-key solutions with full factory warranty. The F9430 represents the fourth generation of our proven 64" platform. It combines a fast and reliable roll-to-roll production engine with a reduced running cost and optional fluorescent support.
The SC-F9430 combines Epson Precision Dot Technology, with advanced media management and UltraChrome DS HDk ink to enable outstanding image quality at high speed. It achieves an exceptional gamut using just 4 colours, and can be ordered in a 6c configuration with additional florescent ink. The 64" wide engine is supported by a large Continuous Ink Supply System (CISS) and a high precision Auto Take-Up. It is simple to operate, ships complete with software, and has an advanced self-cleaning system for reliable operation with minimal oversight and maintenance. The printer is designed for soft signage and fabric production but can also be used for hard surface work.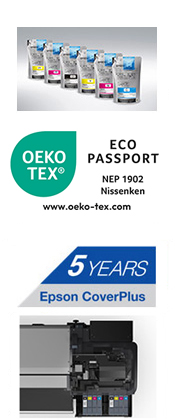 FEATURES AT A GLANCE
Superior Quality – Dual Epson heat-free PrecisionCore™ (TFP) Print Heads driven by Epson Precision Dot Technology for superior imaging at up to 720x1440 dpi accurate colour, and super-fine gradation. UltraChrome™ DS HDk ink for an expanded gamut and Dmax. Optional 6c High colour configuration provides additional fluorescent support.
Excellent Flexibility – compatible with roll media up to 64" (1626mm) wide and as thin as 0.04mm. Variable print modes to suit different image quality, speed, and substrate media. Sublimated fabric is suitable for use by all age groups2.
Outstanding Productivity – supports production speeds of up to 60m2/hr, has a large 12/15L Continuous Ink Supply System (CISS), advanced intelligent media management with support for rolls up to 45kg and high-precision auto take-up for high-quality roll-to-roll production.
High Reliability – proven platform enables smooth and stable production at high speed, integrated crash guard and dust collectors ensure worry-free operation, comprehensive heads-and all warranty can be augmented with up to five years on-site CoverPlus protection1
Reduced Cost – quick and easy to install, runs off a standard power supply, and comes complete with software. Operates with reduced power consumption and cost-effective 1/1.1L ink refills. Features self-monitoring print heads and an auto cleaning system. Media can be loaded by a single operator and printer requires minimal monitoring and maintenance1.

QUALITY RESULTS AT MAXIMUM SPEED
The SureColor F9430 features Dual heat-free PrecisionCore Thin Film Print heads that facilitate high-resolution imaging with pin-point accuracy and outstanding uniformity. The heads are driven by Epson Precision Dot Technology for extremely accurate colour with fine gradation and minimum grain. An advanced media management system works in conjunction with a high-precision, multi-part platen to ensure smooth operation with minimum banding, even at the highest production speeds. An extended suite of print settings provide support for sublimation onto a huge range of fabric and hard surface materials with adjustable quality levels to suit customer requirements.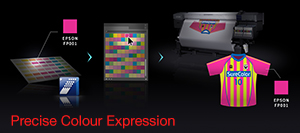 Epson UltraChrome DS ink was designed to enable production of a wide range of goods from material and clothing, to soft signage and banners, to hard signage, to sublimated photo images and custom merchandise. It provides vibrant and intense colour that adheres quickly, transfers smoothly and provides excellent light and wash fastness. It meets AZO requirements and when applied to polyester fabrics it conforms to the latest Oeko-Tex Eco Passport® standard for safe use by adults, children and babies2. The F9430 uses an advanced HDk formulation which works in conjunction with Precision Dot Technology to enable gamut levels equivalent to competing products with 6+ inks, using just 4. The F9430H configuration features two additional channels of fluorescent ink that can be combined with the basic CYMK for output with exceptional colour intensity and vibrancy.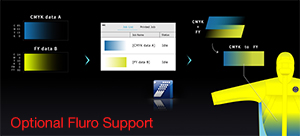 EFFICIENT WORKFLOW
The SureColor F9430 has been designed for efficient operation at high speed. It incorporates an upgraded feed path with active multi-point tracking for quality imaging at the highest production speeds. The print heads are self-cleaning and mounted in a carriage that has an integrated crash guard and dust catcher. The printer features a high-capacity Continuous Ink Supply System (CISS) that can be refilled or pre-emptively 'topped-up' without interrupting print jobs. A high-precision Auto Take-Up (ATU) works together with the media tracking system to enable continuous unattended roll-to-roll production with consistent tension and parallelism. When used in conjunction with a calendar-style heat press it can produce product of outstanding quality.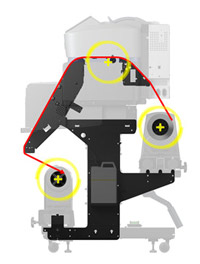 The SC-F9430 features a media loading system that supports large and heavy rolls with management by a single operator. The printer comes with Epson Control Dashboard software that enables local and remote management complete with a suite of tools for reporting, configuration, and adjustment. The software also provides access to a library of downloadable media and print profile settings for fast configuration. Additional Epson LFP Accounting software helps track costs and facilitate easier job costing.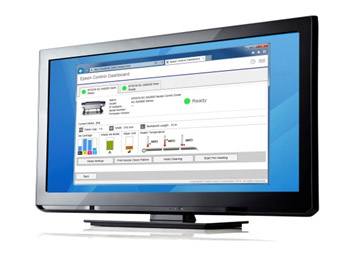 EASY TO INSTALL & OPERATE
The SureColor F9430 requires minimal space to operate. It runs off a standard amperage 240V power supply and can be driven by a PC of moderate specification. The printer ships complete with Epson Edge Print software that incorporates a high precision Adobe™ Postscript® engine to enable quality imaging of PS, EPS, PDF, TIFF, JPEG and PNG files. It provides all the functionality required to preview and process images including basic functions such as copy, position, and trim, as well as advanced functions like nesting, tiling, step and repeat. For performance users, the printer can also be driven via a range of third party RIP and workflow applications.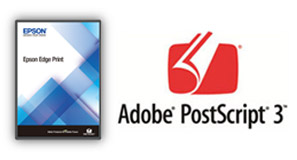 1Installation by a qualified engineer is generally recommended and can be arranged with Epson directly or through our Authorised Reseller Network. The independent sourcing of appropriate sublimation equipment will be required and the use of an external heater/ blower system is generally recommended. After-sales service is co-ordinated by Epson in conjunction with our Authorised Reseller Network. Service may be restricted or limited when equipment is used outside of specification &/or with non-Epson consumables. For full details on coverage, terms and limitations please refer to our Warranty Statement.
2ECO PASSPORT by OEKO‐TEX® is an international standard for the textile industry system. It enables suppliers to demonstrate that products can be used in sustainable textile production. For further information please see the OEKO-TEX web site.