Khi dòng máy Epson SureColor Fabric được phát hành lần đầu tiên, nó đại diện cho một cuộc cách mạng; được thiết kế từ nền tảng cho sự thăng hoa của thuốc nhuộm, nó đã cung cấp một trong những giải pháp chìa khóa trao tay đầu tiên với bảo hành đầy đủ của nhà máy. F9430 đại diện cho thế hệ thứ tư của nền tảng 64 inch đã được chứng minh của chúng tôi. Nó kết hợp một động cơ sản xuất cuộn nhanh và đáng tin cậy với chi phí vận hành giảm và hỗ trợ mực huỳnh quang tùy chọn.
When the Epson SureColor Fabric DS series was first released it represented a revolution; designed from the ground up for dye sublimation, it provided one of the first turn-key solutions with full factory warranty. The F9430 represents the fourth generation of our proven 64" platform. It combines a fast and reliable roll-to-roll production engine with a reduced running cost and optional fluorescent support.
The SC-F9430 combines Epson Precision Dot Technology, with advanced media management and UltraChrome DS HDk ink to enable outstanding image quality at high speed. It achieves an exceptional gamut using just 4 colours, and can be ordered in a 6c configuration with additional florescent ink. The 64" wide engine is supported by a large Continuous Ink Supply System (CISS) and a high precision Auto Take-Up. It is simple to operate, ships complete with software, and has an advanced self-cleaning system for reliable operation with minimal oversight and maintenance. The printer is designed for soft signage and fabric production but can also be used for hard surface work.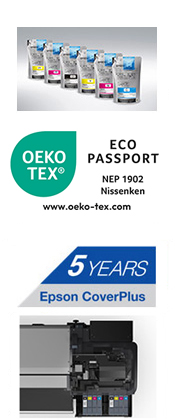 FEATURES AT A GLANCE
Superior Quality – Dual Epson heat-free PrecisionCore™ (TFP) Print Heads driven by Epson Precision Dot Technology for superior imaging at up to 720x1440 dpi accurate colour, and super-fine gradation. UltraChrome™ DS HDk ink for an expanded gamut and Dmax. Optional 6c High colour configuration provides additional fluorescent support.
Excellent Flexibility – compatible with roll media up to 64" (1626mm) wide and as thin as 0.04mm. Variable print modes to suit different image quality, speed, and substrate media. Sublimated fabric is suitable for use by all age groups2.
Outstanding Productivity – supports production speeds of up to 60m2/hr, has a large 12/15L Continuous Ink Supply System (CISS), advanced intelligent media management with support for rolls up to 45kg and high-precision auto take-up for high-quality roll-to-roll production.
High Reliability – proven platform enables smooth and stable production at high speed, integrated crash guard and dust collectors ensure worry-free operation, comprehensive heads-and all warranty can be augmented with up to five years on-site CoverPlus protection1
Reduced Cost – quick and easy to install, runs off a standard power supply, and comes complete with software. Operates with reduced power consumption and cost-effective 1/1.1L ink refills. Features self-monitoring print heads and an auto cleaning system. Media can be loaded by a single operator and printer requires minimal monitoring and maintenance1.

QUALITY RESULTS AT MAXIMUM SPEED
The SureColor F9430 features Dual heat-free PrecisionCore Thin Film Print heads that facilitate high-resolution imaging with pin-point accuracy and outstanding uniformity. The heads are driven by Epson Precision Dot Technology for extremely accurate colour with fine gradation and minimum grain. An advanced media management system works in conjunction with a high-precision, multi-part platen to ensure smooth operation with minimum banding, even at the highest production speeds. An extended suite of print settings provide support for sublimation onto a huge range of fabric and hard surface materials with adjustable quality levels to suit customer requirements.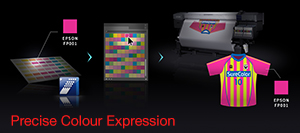 Epson UltraChrome DS ink was designed to enable production of a wide range of goods from material and clothing, to soft signage and banners, to hard signage, to sublimated photo images and custom merchandise. It provides vibrant and intense colour that adheres quickly, transfers smoothly and provides excellent light and wash fastness. It meets AZO requirements and when applied to polyester fabrics it conforms to the latest Oeko-Tex Eco Passport® standard for safe use by adults, children and babies2. The F9430 uses an advanced HDk formulation which works in conjunction with Precision Dot Technology to enable gamut levels equivalent to competing products with 6+ inks, using just 4. The F9430H configuration features two additional channels of fluorescent ink that can be combined with the basic CYMK for output with exceptional colour intensity and vibrancy.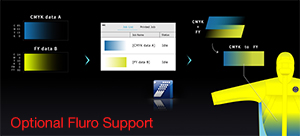 EFFICIENT WORKFLOW
The SureColor F9430 has been designed for efficient operation at high speed. It incorporates an upgraded feed path with active multi-point tracking for quality imaging at the highest production speeds. The print heads are self-cleaning and mounted in a carriage that has an integrated crash guard and dust catcher. The printer features a high-capacity Continuous Ink Supply System (CISS) that can be refilled or pre-emptively 'topped-up' without interrupting print jobs. A high-precision Auto Take-Up (ATU) works together with the media tracking system to enable continuous unattended roll-to-roll production with consistent tension and parallelism. When used in conjunction with a calendar-style heat press it can produce product of outstanding quality.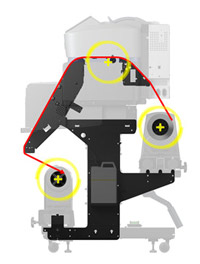 The SC-F9430 features a media loading system that supports large and heavy rolls with management by a single operator. The printer comes with Epson Control Dashboard software that enables local and remote management complete with a suite of tools for reporting, configuration, and adjustment. The software also provides access to a library of downloadable media and print profile settings for fast configuration. Additional Epson LFP Accounting software helps track costs and facilitate easier job costing.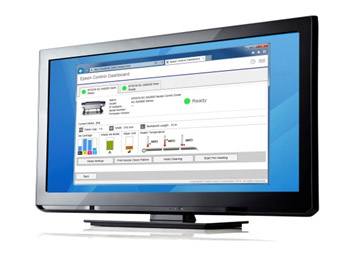 EASY TO INSTALL & OPERATE
The SureColor F9430 requires minimal space to operate. It runs off a standard amperage 240V power supply and can be driven by a PC of moderate specification. The printer ships complete with Epson Edge Print software that incorporates a high precision Adobe™ Postscript® engine to enable quality imaging of PS, EPS, PDF, TIFF, JPEG and PNG files. It provides all the functionality required to preview and process images including basic functions such as copy, position, and trim, as well as advanced functions like nesting, tiling, step and repeat. For performance users, the printer can also be driven via a range of third party RIP and workflow applications.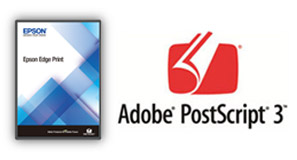 SIZE
Max Media Width
64 inch (1625.6mm)
PRINT TECHNOLOGY
Print Head
DUAL Epson PrecisionCore™ TFP
Print Modes
Uni & Bi-directional
Features
Variable Sized Droplet Technology (VSDT)
Integrated Crash Guard and Dust Catcher
Auto Nozzle Status Monitoring
Auto Head Cleaning
Nozzle Configuration
360 x 2 per colour
Active Channels
2 x 5
Maximum Resolution
720 x 1440dpi
Min Droplet Size
4pl
INK SYSTEM
Family
Epson Ultrachrome® DS / Epson Ultrachrome® DS6
Type
Dye Sublimation
Colours
Dual CYMHDk (F9430) / Dual CYMHDk + Single Fp & Fy (F9430H)
Supply
8 / 10 x 1.5L Continuous Ink Supply System (CISS)
Refills
1.1L CYMHDk (shipped in individual colour cartons of 6pcs)
1L FpFy (F9430H only, shipped in individual colour cartons of 2pcs)
PERFORMANCE
4c Draft
360 x 720dpi (1 Pass) 108.6m2/hr
4c Fast Fabric Production
360 x 720dpi (2 Pass) 60.1m2/hr
4c Standard Fabric Production
720 x 720dpi (3 Pass) 44.1m2/hr
4c Premium Fabric Production
720 x 720dpi (4 Pass) 29.9m2/hr
4c HQ Standard Rigid Production
720 x 720dpi (6 Pass) 20.7m2/hr
4c HQ Quality Rigid Production
720 x 720dpi (8 Pass) 13.3m2/hr
6c Fast Fabric Production (F9460H only)
720 x 1440dpi (4 Pass) 32.1m2/hr
6c Standard Fabric Production (F9460H only)
720 x 1440dpi (6 Pass) 21.9m2/hr
6c Premium Fabric Production (F9460H only)
720 x 1440dpi (8 Pass) 15.8m2/hr
6c HQ Standard Rigid Production (F9460H only)
720 x 1440dpi (12 Pass) 10.6m2/hr
6c HQ Quality Rigid Production (F9460H only)
720 x 1440dpi (12 Pass) 9m2/hr
Figures represent print times only based on the test sample image as shown, produced on Epson Multi-Purpose DS Paper using Epson Edge Print. The total throughput time for a particular job will depend on a number of factors including the PC specification, RIP application, workflow configuration, networking, file format / size, image content, paper type, print mode, Auto-Take-Up activation and Heater activation.
MEDIA SUPPORT
Format
Single roll
Size
300-1626mm wide x 250mm diameter, 2"/ 3" core
Thickness
0.04 - 1.0mm
Min Margins
3mm left & right (5mm when using Media Holding Plates)
5mm leading & trailing edges
Max Print Length
600m (Subject to roll length & RIP s/w limitations)
Loading
Rear with integrated lifter & auto skew adjustment
Media Handling
Media pre-set support
Epson EMX profile support
Advanced Auto Tension Control (Ad-ATC)
Output
Sheets (manual cutting)
Roll to roll with integrated Auto Take-Up (ATU) - 914mm min roll width
OPERATION
Control Panel
2.7" Colour LCD
Interface
High Speed USB 2.0
Ethernet 100Base-T/1000Base-T
Included Software (Windows)
Epson Edge Print, Epson Communications Driver, Epson Control Dashboard, EpsonNet Setup, EpsonNet Config, EpsonNet Print, Software Updater, Epson Manual Launcher, Operators Guide & General Guide
Web Downloads (Windows)
LFP Accounting Tool
Web Downloads (Mac)
Epson Control Dashboard, EpsonNet Setup, EpsonNet Config, Software Updater, Software Updater, Epson Manual Launcher, Operators Guide & General Guide
OS Compatibility

Windows 10, 8/8.1, 7 SP1 64bit or later
Mac OS X 10.6.8 or late

3rd Party S/W Compatibility

Compatible with a wide range of design, production, workflow management, and RIP software

Memory
512 MB Main + 128MB Network
Language
ESC/P Raster
ENVIRONMENTAL
Operational Temp
15°-25°
Operational Humidity
40 to 60% with no condensation
Power Supply
2 x 5A, 240V, 50/60 Hz AC
Power Consumption
570W Operating / Standby 340W / 14W Sleep (1000BASE-T)
Operating Noise
54dB
Operational Space (W x D x H)
3620 x 2934 x 1770mm recommended
PHYSICAL
Dimensions (W x D x H)

2620 x 934 x 1332mm

Weight
290Kg (without ink)
WHAT'S IN THE BOX

Printer, Media Supply System (MSS), Continuous Ink Supply System (CISS), Starter Ink, 1 x Roll of Epson Multi- Purpose Transfer Media, 1 x Maintenance Kit, 1 x Carriage Rod Grease Kit, Set-up guide, Epson Edge Print Software (CD), Operator Guide & Utility software (CD).

Packaging
(W x D x H)

Printer: 3170 x 1100 x 1111mm, 400Kg
MSS & CISS: 3100 x 1064 x 607mm, 100Kg

SYSTEM REQUIREMENTS
A Personal Computer will be required for installation and operation of this printing system. The PC should have a minimum Intel Core i3 /AMD Phenom 2 or equivalent processor (2.5Ghz i5 or greater with separate GPU recommended), 8GB or more memory, a 250GB or larger HDD (1TB recommended), running Windows Vista 32bit or greater (Win 7 64bit/Win 8 recommended). A DVD drive with +/-RW read support and a network with external Web access will be required for installation. For optimum performance it is recommended that 1000Base-T Ethernet networking be employed. High speed web access and an off-line storage facility will be required to complete the installation process and is recommended for operation.

The use of a 3rd party ancillary heater/ blower unit is highly recommended with this machine. The typical operational environment will also involve a calendar style heat press which will need to be sourced separately. Please speak with your dealer for recommendations.
SERVICE & SUPPORT

** The printer comes with a comprehensive 1 year warranty that includes cover for the Print Heads but excludes the CISS (3 month replacement warranty). CoverPlus increases the service response level, adds full cover for the CISS, and extends total cover by an additional 1, 2, 3, or 4 years (multiple packs can be combined). CoverPlus can be purchased concurrently with the printer or ordered separately up to 365 days after the original invoice date.